Lodging
Each floor is occupied either entirely by girls, or entirely by boys.
The selection of roommates for the double rooms is made according to affinities (friendship, smoker/nonsmoker, sleep schedule...)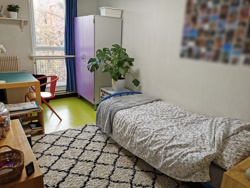 With about 1800 m
2
of space, the Foyer offers 41 individual rooms and 29 double rooms.
The rooms are neatly arranged to give comfort and convenience.
Most of rooms open onto garden.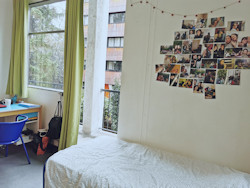 Each room is equipped with:
a bed, a matress with a protective covering, a pillow
a corner with a washbasin
closets
individual refrigerators
a desk and a chair
There are showers and restrooms available on each floor.


Each student is responsible for the propriety of his/her room

(cleaning necessities can be found on each floor). Foyer employees effectuate a major cleaning of the rooms once each trimester (upon arrival, and during the Christmas and Spring vacations).
The Foyer provides each student with a magnetic badge for the entrance and a key for the students' room.